Companies can Hire candidates across India, Mumbai, Delhi, Bangalore, Pune, Nagpur, Chennai, Ahmedabad, Kolkata. Hire from the largest pool of skilled candidates in India. Business Development Executive · Business Development Manager · Insurance Sales · Chartered Accountant · Accountant Human Resource Manager Compliance Executive Field Sales & more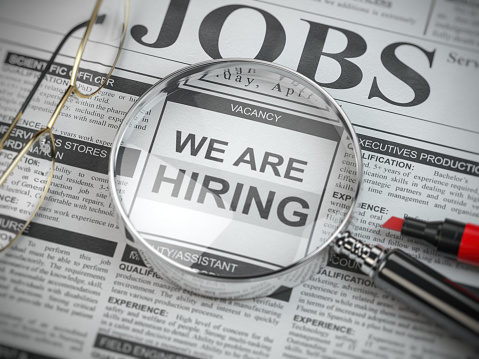 Front office Executive - Bhandup and Dadar
Administration
19-09-2022
Closes: 30-04-2023
Job Info
Salary Range/Month(₹):
21000 to 25000
Career Level:
Experienced
Locations:
Goregaon__Mumbai__Maharashtra
Interview Method:
In-person interview
Work Type:
Work from Single Office Location
Shift Timings:
Day Shift/General Shift
Working Days:
6 days Working
Description
Job details
Salary
₹15,000 – ₹23,000 a month
Job Type
Full-time
Qualifications
Diploma (Preferred)
total work: 1 year (Preferred)
Hindi (Preferred)
English (Preferred)
Full Job Description
Preferred Central Suburbs candidates
Job Summary
The Front Office Executive will be part of the Administrative Team at New Horizons, coordinating with all the Team members to keep track of appointments, payments, cancellations/adjustments and to ensure proper communication.
Responsibilities and Duties
Customer Relationship:
To adorn a dignified, professional, respectful and courteous attitude towards Colleagues, Seniors, Parents, Children and any guests visiting New Horizons.
To have an approachable smile while communicating with the internal and external customers i.e., Colleagues, Therapists, Seniors, Parents, Children and Guests.
Medium of Communication with Parents and Guests has to be Only English, unless they are more comfortable with some other Language.
Greeting and assisting parents and team members in the most courteous, calm and helpful manner, whether in person or telecommunication.
To independently handle the flow of Parents, Children and Guests and lead them to a successful visit by creating a high degree of comfort & ease.
· Should have an Interactive attitude with Parents and should communicate effectively and completely.
Appointments, Scheduling and Payments:
Scheduling OPD appointments
· Scheduling Appointments for Evaluations and New Horizons Development Programs to Parents.
· OPD conversion: making sure that the parents book the appointments after meeting the Developmental Pediatrician.
· Develop and maintain a daily Therapy Schedule.
Required Experience, Skills and Qualifications
Education and Key Essentials:
· Graduate in any discipline
Excellent communication skills
· Good knowledge of MS-Excel and Word, Software skills
Ability to work in a Team
Flexibility with time to work extra hours when the project requires
Job Type: Full-time
Salary: ₹15,000.00 – ₹23,000.00 per month
Schedule:
Day shift
Evening shift
Education:
Diploma (Preferred)
Experience:
total work: 1 year (Preferred)
Language:
Hindi (Preferred)
English (Preferred)